Dignity Health Sports Park in Carson, California - In an undisputed rematch for the WBC, WBO, IBF, WBA junior middleweight titles, Jermell Charlo (35-1-1, 19 KOs) became the undisputed champion when he scored two knockdowns to stop Brian Castano (17-1-2, 12 KOs) in the tenth round. (photos by Stephanie Trapp)
Last year, they fought to a close twelve round split draw where both boxers had their moments.
Both came out cautious in the first minute. As the round continued, the two began to let their hands go and land their shots in a very close opening round. In the second, Castano was coming forward and pressing. Charlo was throwing combinations as Castano would come in. Castano was jabbing to the body and looking for a quick right over the top. Most of the bigger punches connected for Charlo and seemed to edge things, but Castano had some moments of his own.
In the third, Charlo was grabbing Castano every time he got too close. Both were connected some heavy punches during exchanges. During the fourth, Charlo was pumping a stiff jab and landing solid punches when Castano charged in to trade shots. Charlo was having the better shots in the exchanges, but Castano was taking them and continued to come forward. They were trading big shots to close the round out.
The fifth was more of Charlo jabbing, moving and landing as Castano would come inside. It was an absolute war as they were trading a lot of punches in fierce two-way action. In the sixth, Castano seemed to slow down a bit while Charlo was moving and jabbing. Castano eventually got inside and began to put his punches together in bunches on Charlo.
During the seventh, Charlo had a very good boxing round where he jabbing and connected on punches when Castano came in. Charlo continued to box well off the backfoot in the eight. The ninth saw Charlo box and move with Castano pressing and looking for openings. Castano was not able to have as much success with Charlo holding when they got too close.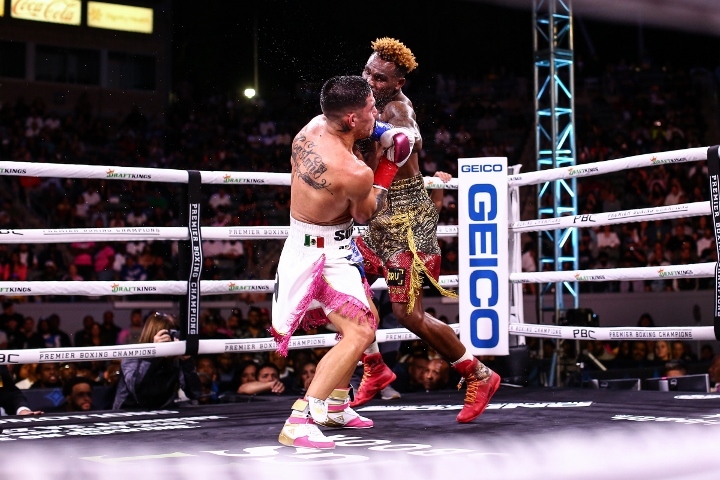 Castano came out swinging in the tenth, forcing Charlo to exchange. Charlo was landing well and dropped Castano when they were in close. Castano got up on very unsteady legs. Charlo attacked him with a variety of punches for a second knockdown, with the referee waving off the fight.