Park MGM, Las Vegas - In a WBC, WBO super bantamweight unification, Stephen Fulton (20-0, 8 KOs) had to go through a ton of fire to win a twelve round majority decision over previously unbeaten Brandon Figueroa (22-1-1, 17 KOs) in a war. (photos by Esther Lin and Sean Michael Ham).
The scores were 114-114 for the draw, and 116-112, 116-112 for Fulton.
The first two rounds were close with Fulton landing the accurate punches and Figueroa pumping out a lot of punches. There was a lot of holding the part of Fulton. The third round was very close with both fighters exchanging a lot of punches in close. In the fourth, Figueroa was digging a lot of the body and pushing Fulton back. Fulton was landing accurate punches from range.
The fifth was a Figueroa round, who managed to outwork and outland Fulton, who was game and stood in there. The sixth saw Fulton start strong, but then Figueroa started coming with fire from both hands to the head and body. He was unloading the kitchen on Fulton, who managed to weather the storm.
A very close seventh, with both having their moments with plenty of punches being exchanged. In the eight, Fulton was landing a lot of accurate punches as Figueroa was coming inside. In the closing moments, Figueroa may have buzzed Fulton and started unloading with punches.
Plenty of punches traded in the ninth. Figueroa was landing a lot to the body, with Fulton connected often to the head. The tenth was a good round for Fulton at the start, but it was Figueroa who came on strong in the final minute as he may have once again stunned Fulton and unloaded with shots on him. The eleventh was better for Fulton, who was doing good boxing and accurate shots on an incoming Figueroa.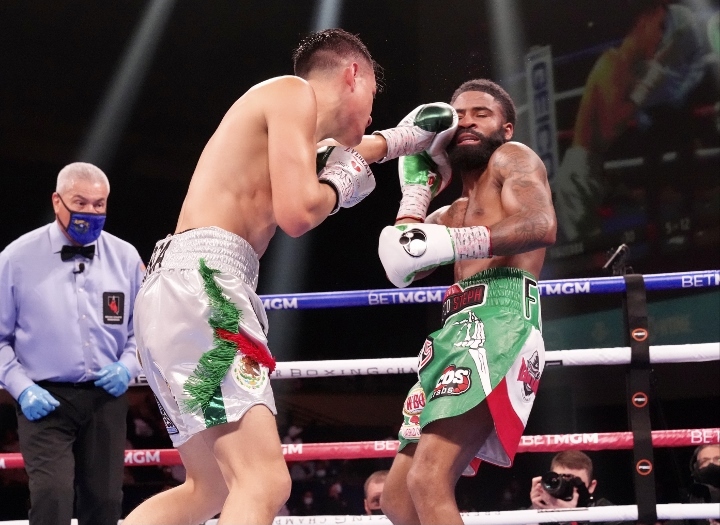 In the twelfth and final round, Figueroa went right after Fulton, who was holding and moving while boxing and landing. Figueroa was not being discouraged, as he continued to come forward and throw a lot of punches.