Carson, California - In a battle for the WBC's interim-junior middleweight title, Sebastian Fundora (20-0-1, 13 KOs) won a twelve round unanimous decision over Carlos Ocampo (34-2, 22 KOs). (photos by Esther Lin)
The scores were 117-111, 118-110 and 119-109.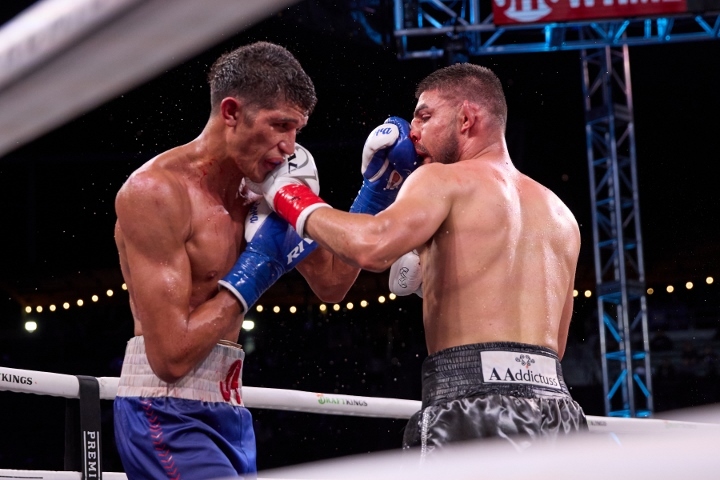 Ocampo was going to the body in the first, trying to chop down the bigger man. Fundora was pawing with the jab. Fundora was mostly jabbing in the second. Ocampo was countering well, but he was starting to get tagged by the jab which bloodied his nose. It was a give and take round in the third, with both having some success. Ocampo landed several head shots.
In the fourth, they started by exchanging big punches and began to trade more often on the inside. It was becoming a fire-fight with punches flying in toe to toe fashion. They started the fifth with more toe to toe warfare at close range and continued that way for the rest of the round. During the sixth, the continued to exchange in close. Fundora was able to land the more telling blows to the head and body of Ocampo. In the seventh Fundora was outworking a game Ocampo, who seemed to have slowed down.
They were trading away in the eight round. There was plenty of close-range punches being exchanged by both.  It was close action during the ninth with both trading away at close range. More of the same in the tenth, with Fundora having the edge in sharper punches connecting. In the eleventh, Fundora went back to his jab and was keeping Ocampo at distance. Fundora followed the same strategy in the twelfth, by using the jab at the distance for most of the round to keep Ocampo at bay.