T-Mobile Arena, Las Vegas - In a heavyweight rematch, Robert Helenius (31-3, 19 KOs) beat down Adam Kownacki (20-2, 15 KOs) on pace to a sixth round stoppage.
In their first meeting, in March of last year, Kownacki seemed to be in full control when Helenius caught him with a big shot in the fourth, dropped him hard, and then finished him off before the round closed.
As the fight began, Kownacki came out swinging and appeared to get buzzed from a flurry of shots from Helenius. Kownacki continued to press forward and was trying to force Helenius to fight. Both were jabbing. Helenius rocked Kownacki at the end of the round and was working him over with hard shots.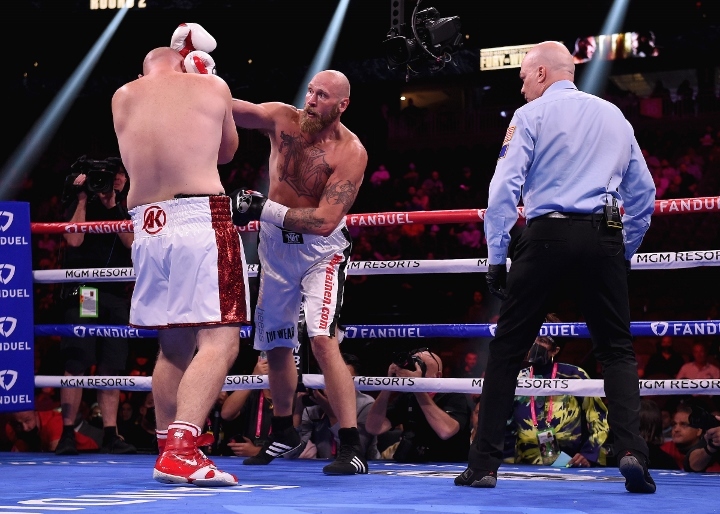 The left eye of Kownacki was swelling up when the second round began. And the right eye had damage as well. Kownacki continued to press forward and throw. Helenius was landing counters and using a jab, holding Kownacki when he got in close. During the third, Helenius was able to rock Kownacki at the end of the round, when Kownacki hit him with two low blows to receive a hard warning.
Kownacki came out firing at the start of the fourth. Helenius was landing a hard jab and shots as Kownacki came inside. During the fifth, Kownacki lost a point for repeated low blows. Helenius continued to land hard shots on Kownacki. The sixth was not much different, with Helenius working over Kownacki. During the round, Kownacki landed another low blow and the referee stopped the action, noting that the Polish boxer was being disqualified.