Cleveland - In a junior welterweight clash, Montana Love (16-0-1, 8 KOs) dropped and stopped former world champion Ivan Baranchyk (20-3, 13 KOs) in seven rounds of action. (photos by Amanda Westcott)
Baranchyk was returning for the first time since getting knocked out last year in the 2020 Fight of The Year with Jose Zepeda.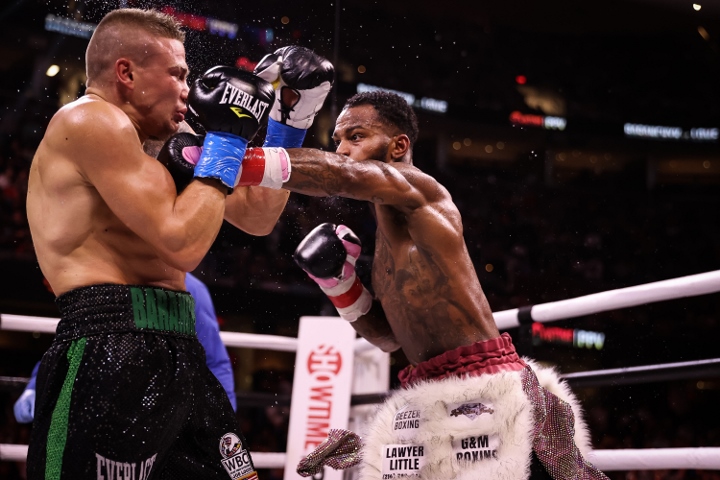 In the first, Baranchyk was coming forward and looking for big shots. Love was being defensive and making the big puncher miss, but not throwing enough. More of the same in the second, with Love countering more and landing.
Love was staggered for a moment during the third, as Baranchyk landed several hard shots. Love grabbed on to get out of trouble. Then Love staggered Baranchyk with a right hook as the referee was breaking them. In the fourth, Love was standing his ground more often and willing to fight an incoming Baranchyk, who was stunned by a left hand.
In the fifth, Love was connected more often with solid counters. Love continued to control things in the sixth. He was unloading with punches in the seventh, as Baranchyk was missing wildly. A big counter left dropped Baranchyk in the seventh as the bell rang. The corner stopped the fight at the end of the round.