Miami Hard Rock Stadium, Miami, Florida - In a middleweight contest, Luis Arias (19-2-1, 9 KOs) picked up the biggest win of his career with a ten round split decision win over former unified 154-pound champion Jarrett Hurd (24-2, 16 KOs). (Photos by Amanda Westcott)
The scores were 95-94 for Hurd, 97-93 for Arias and 96-93 for Arias.
Arias came out with a lot of jabs to the head and body, pressing forward and letting his hands go in the first round. Hurd, known as a slow-starter, was taking his time. Arias continued his quick start by circling and throwing fast combinations.
There was brief time called at the start of the second, as there was heavy rain in the venue and the ring was getting wet. Arias was tagging up Hurd when the action restarted. Hurd was starting to get more active, but Arias was landing some hard punches flush. A cut opened up around the forehead of Arias.
Hurd was letting his hands go at the start of the third, before Arias came firing back with a lot of combinations. Arias was landing a lot shots on Hurd. A clash of head opened up a cut around the left eye Hurd. In the fourth, Hurd came out jabbing and coming forward on Arias. There was a lot of fighting on the inside, with Arias landing most of the big shots.
They were trading in close at the start of the fifth. Both were getting off with good shots, but Arias had the edge with punches thrown and landed. Hurd started coming back in the final minute, before Arias started throwing again. In the sixth, Hurd was applying a lot of pressure and going after Arias, who seemed to be a little tired but still punching well. In the final minute, Hurd rocked Arias with several hard punches and had him in trouble.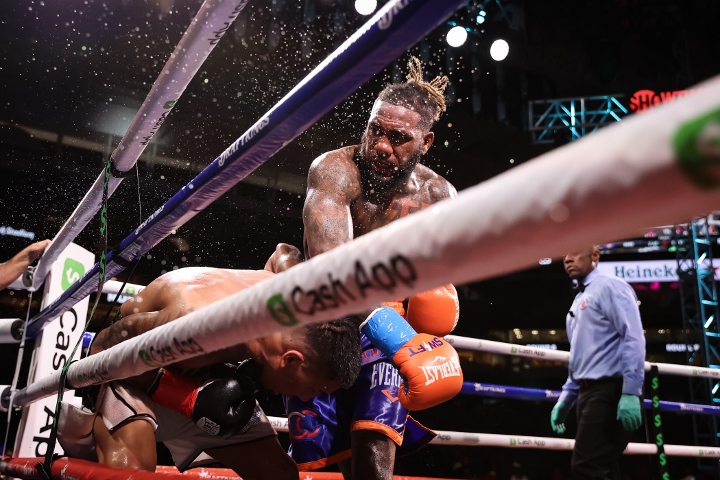 In the seventh, Hurd came pressing and looking to do more damage. Arias was still letting his hands go often and connecting on Hurd. A low blow sent Arias down. And sent him down again a moment later from another low blow. Hurd was working him over in the final minute, before Arias came back to trade. The punches were flying at the start of the eight. It was back and forth punching by both on the inside. Arias was landing some bombs and Hurd was taking them.
Before the start of the ninth, another timeout called due to the rain delay. When the action restarted, Hurd was credited with a knockdown when Arias slipped due to the wet surface. Arias came in firing with a lot of punches as Hurd took a lot of hits before coming back in the final thirty seconds.
They were both firing with punches in the tenth. Arias had the edge as the shots were exchanged. He seemed to rock Hurd with a three punch combination. Hurd did a lot of holding, but Arias still closed stronger with big shots.