Madison Square Garden, New York City - In a battle for the undisputed lightweight championship, Katie Taylor (21-0, 6 KOs) won a hard-fought ten round split decision over Amanda Serrano (42-2-1, 30 KOs). (photos by Ed Mulholland)
The scores were 96-94 for Serrano, 97-93 for Taylor and 96-93 for Taylor.
Serrano was pressing forward and looking to land big punches in the first, with Taylor moving well and landing quick combinations. Serrano began to go the body. In the second, Taylor continued to connect with fast counters as Serrano was coming forward.
Serrano was doing better in the third, with hard punches connecting to the head of Taylor. Serrano was forcing Taylor to fight in the fourth. Serrano was pressing and cut Taylor over her right eye. They were brawling in the fifth, with Taylor taking more than she was landing. Taylor's nose was busted and she was badly hurt. Serrano was punishing her with big shots.
In the sixth, Serrano went right after Taylor with big shots. Taylor was stumbling and trying to fight back. Serrano continued to punish Taylor with heavy punches. In the seventh, the pace really slowed down with Taylor just moving and boxing. Serrano may have taken the round off.
During the eight, Taylor came out throwing combinations. Serrano was not throwing as much, with Taylor moving and landing quick punches. In the ninth, it was Taylor outboxing Serrano, who was winging hard punches and not able to connect.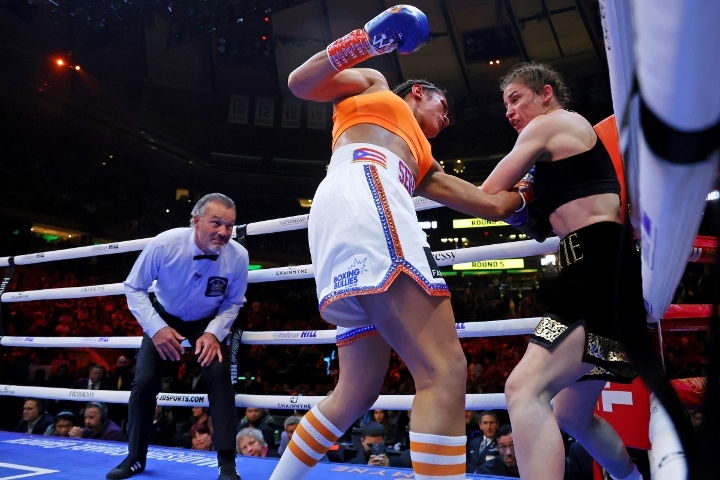 Serrano went after Taylor in the tenth and final round. Taylor was fighting and Serrano was cut over her right eye. They were brawling hard at the end with Taylor rocked and nearly went down to knee, but managed to stay up and continued swinging.