O2 Arena, London - In a high stakes light heavyweight clash, Joshua Buatsi (16-0, 13 KOs) fought his way to a twelve round unanimous decision over Craig Richards (17-3-1, 10 KOs). (photos by Mark Robinson_
The scores were 116-112, 115-113 and 115-113.
Buatsi came out very fast in the first, pressing the action and looking to land big punches. Richards was working off the jab and looking to counter a very aggressive Buatsi. At the start of the second, Buatsi came back out firing and pressing on Richards. At one point Richards landed a big uppercut that made Buatsi explode with punches. Richards made things a little close with his boxing ability.
It was more of a boxing match in the third. Both were working off the jab. Buatsi was having more success, but Richards had moments as well. There was solid in-fighting between Buatsi and Richards in the fourth. Buatsi was landing the better shots. In the fifth, Buatsi was back on the attack. He was firing and landing quite a few punches. Richards weathered the storm and went after Buatsi punches of his own.
During the sixth, Buatsi went after Richards once again with big punch combinations. Richards took them and went back after Buatsi. It was give and take where both hands moments. The pace slowed in the seventh, with a technical boxing match between the two. In the eight, Richards had a big moment when he rocked Buatsi with an uppercut. Buatsi fought his way out of trouble as they traded big punches.
It was a closer paced boxing match in the ninth. During the tenth, Buatsi went on the attack and was throwing a lot of punches on what seemed to be a hurt Richards. Buatsi would eventually punch himself out, as Richards once again weathered the storm and start his own offense near the end of the round.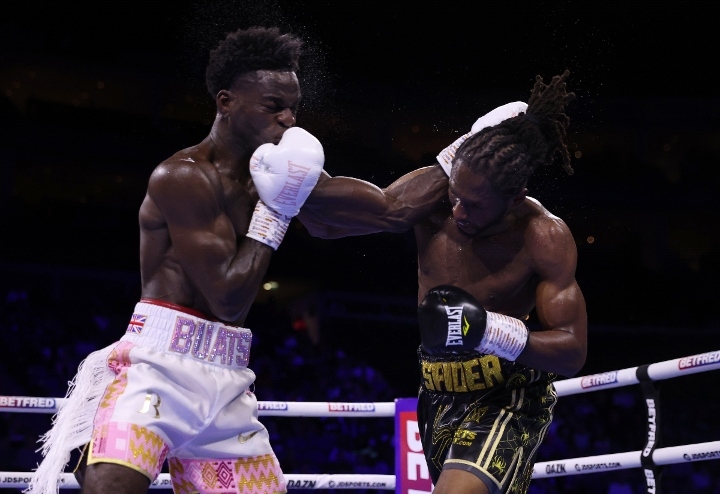 In the eleventh, it was once again give and take with both boxers having moments of success. Buatsi had the edge with the harder punches connecting. They were shooting off the jab in the twelfth and final round. The fight stayed in the distance as they were looking for openings. Buatsi was landing the more damaging punches during exchanges.