Banc of California Stadium, Los Angeles - In a battle of former world champions, Joseph Diaz (32-1-1, 15 KOs) won a twelve round unanimous decision over Javier Fortuna (36-3-1, 25 KOs) to capture the WBC's interim-lightweight title. The scores were 117-110, 116-111 and 115-112. (photos by Sye Williams)
The contest was fought at a slow pace when the first round started, but it quickly picked up near the end of the round. In the second, Diaz was applying pressure and coming forward, with Fortuna hanging back and slinging out the faster punches. Fortuna was pumping the jab at the start of the third. Diaz began to come back with solid combinations. There was a clash of heads that opened up a cut around the left eye of Diaz.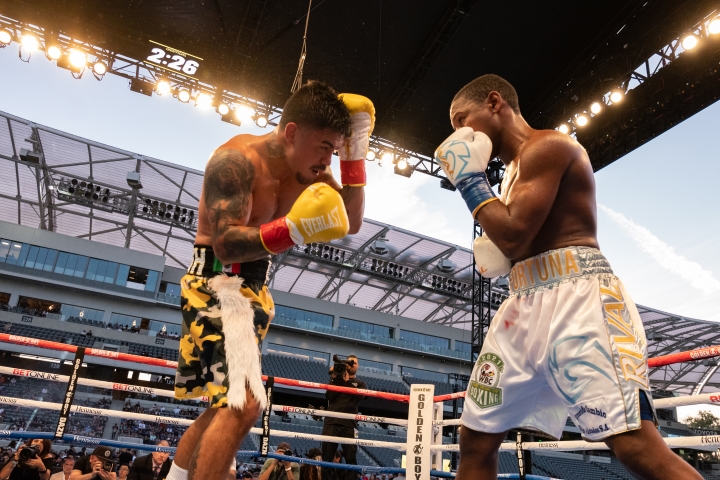 Diaz was going to the body at the start of the fourth. They began to trade hard punches, with Diaz losing a point for hitting behind the head. When the fight resumed, Diaz came out firing to do damage. Once the action slowed up, Fortuna was starting to connect.
Fortuna was unloading with big punches in the fifth round. He was loading up and landing to the head and body of Diaz. In the sixth, Fortuna was coming forward and letting his hands go. He was forcing Diaz to fight and trade at close range. Diaz was applying pressure in the seventh round, coming forward and pushing the pace. During the eight, Fortuna was getting the better of the exchanges and was landing solid punches to the head and body.
Fortuna was walking Diaz down in the ninth and shooting his shots. They began to trade on the inside with punches' being exchanged to the head and body. Diaz seemed to hurt Fortuna to the body and had him on the run in the closing moments. In the tenth, Fortuna was on the move and jabbing. Diaz was pressing him and controlling the action with the bigger shots.
Diaz was controlling things on the inside as the eleventh played out. Fortuna began to take over the round as Diaz seemed to be reserving his energy. But then Diaz exploded with hard shots in the final minute to force Fortuna to hold on. Fortuna came out firing at the start of the twelfth. He was letting a lot of punches go, with Diaz taking them and kept coming. They were trading in close, with Diaz pushing the pace and pressing Fortuna in the final minute.