London, UK - In a WBA super middleweight eliminator, John Ryder (31-5, 17 KOs) pulled of a shocker when he rallied in the second half to secure a twelve round split decision over former world champion Daniel Jacobs (37-4, 30 KOs). (photos by Mark Robinson)
The scores were 115-113 for Jacobs, 115-113 for Ryder and 115-113 Ryder.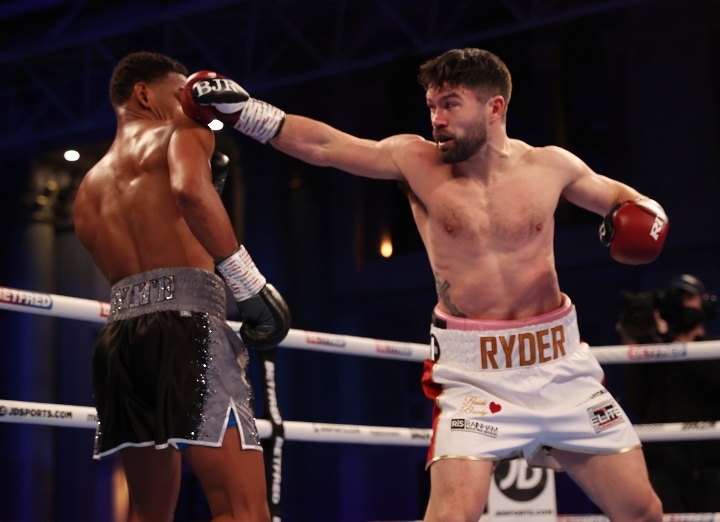 It was a very calculated fight in the first two rounds, with Jacobs just boxing and looking for the openings. Not much action between the two boxers. Ryder was simply not doing enough in rounds three to five, with Jacobs being busier and landing more.
Ryder began to pick up the pace in the sixth, as he started to apply more pressure and was going to the body. Jacobs was still using his long jab to set up other punches. The seventh round had the most action of the fight, with Ryder landing hard punches as they were trading shots in close. During the eight, Ryder continued to rally with his work on the inside. Jacobs was mostly holding and not working. Ryder was unloading on Jacobs in the final minute.
In the eight, Ryder went right back to work and went right after Jacobs, who was still holding way too often while taking too many shots. Jacobs started firing a rally of shots in the final minute, before Ryder came back with shots of his own. Jacobs came back by boxing well in the tenth.
Ryder was doing well in the eleventh as he was back to letting his hands go when they were close. There wasn't as much work from Jacobs. In the twelfth and final round, it started slow with no sense of urgency of by either man. Jacobs was busier and landing a bit more punches.