Tampa, Florida - In a cruiserweight rematch, social media star Jake Paul (5-0, 4 KOs) set the record straight with a brutal sixth round knockout of former UFC champion Tyron Woodley (0-2). (photos by Amanda Westcott)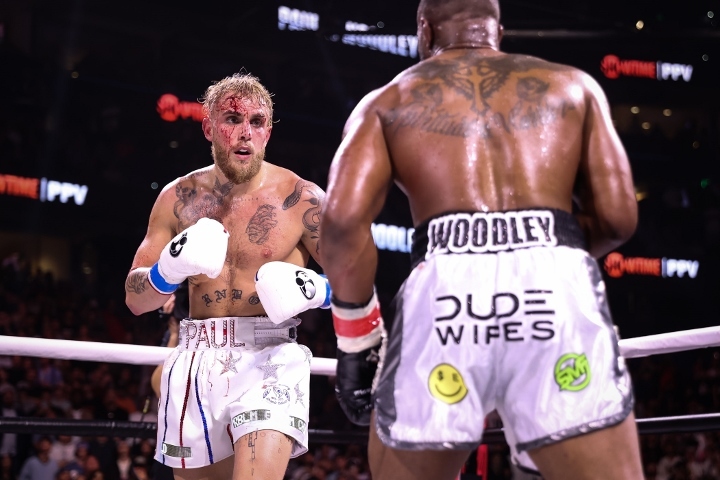 Their first bout, which took place back in August, saw Paul go the distance for the first time and win an eight round split decision.
Woodley came out jabbing and was starting faster than he did in the first. Paul was going to the body. There wasn't much between the two and there was a lot of holding. At the start of the second, Paul landed a good right and then went to the body. Woodley landed a two combination. There was still a lot of holding. Paul closed the round with a good combination.
At the start of the third, there was an elbow that bloodied the head of Paul with a bad cut. Woodley jumped on him with good punches that rattled Paul. Paul was able to survive, but he was a bloody mess. Paul came out swinging with punches in the fourth. Woodley would come back with an uppercut and then a right hand. There was still a lot of holding and neither fighter did much closing moments.
The action was close in the fifth, with both landing in small spells. During the sixth, Paul was mostly going to the body. Woodley was able to land a decent righthand. Paul then connected with a huge hook that knocked Woodley out cold. Woodley fell face-first to the mat and fight was waved off quickly.