State Farm Arena, Atlanta - In a clash for the WBA "regular" junior welterweight title, Gervonta Davis (25-0, 24 KOs) scored three knockdowns to stop unbeaten Mario Barrios (26-1, 17 KOs) in the eleventh round. (photos by Amanda Westcott, Sean Michael Ham)
In the first, Barrios came out working a jab and was walking Davis back. It was hard for Davis to get inside in a very technical three minutes. During the second, Davis was looking for counters as Barrios was backing him up. Barrios continued pumping out a jab to keep Davis back. Davis landed a good left, but Barrios came back with the jab and a few accurate punches.
Davis began to land better in the third, especially to the body. Barrios was willing to engage and get in there, but Davis was starting to connect. In the fourth, it was close in another technical fight where both connected on few punches.
In the fifth, Davis connected with several big left hands to the head of Barrios and was starting to push him back. A small cut developed around the right eye of Barrios. In the sixth, it was Barrios going backwards as Davis was coming forward, applying pressure and looking for shots - with some stiff punches landing to the head.
Barrios came out looking to take the fight against Davis in the seventh. The left continued to land for Davis, with Barrios doing good work as well. At the start of the eight, a big right hook dropped Barrios. He got up and was dropped for a second time from a big left hand. Barrios was doing his best to fight back, but he was getting tagged with big shots for the rest of the round, with his face bloodying up.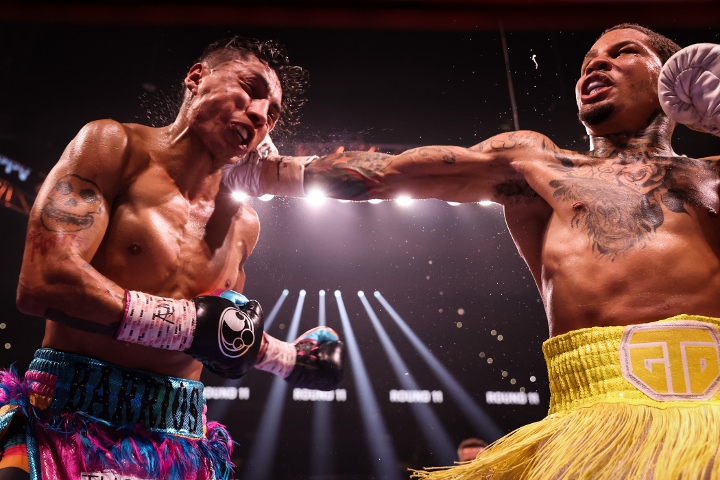 At the start of the ninth, Barrios came out jabbing and was looking to back Davis up. Barrios was pressing the action for most of the round as Davis may have punched himself out in the round prior. In the tenth, Barrios was letting his hands go and brawling with Davis, who was landing the bigger punches as the round played out with a lot of fireworks.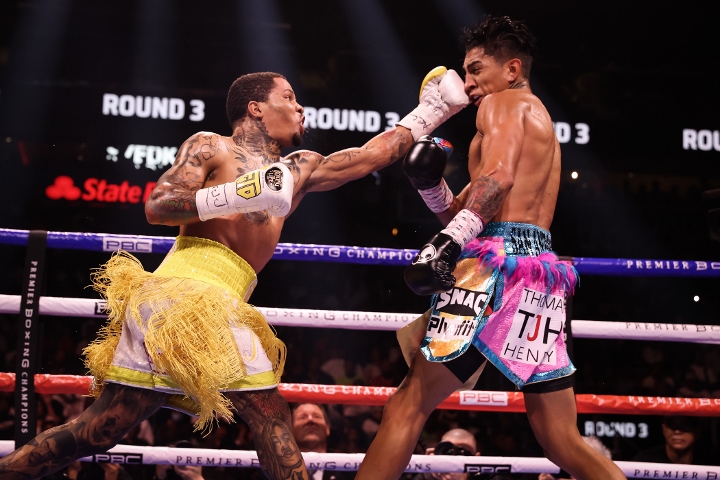 Davis was going after Barrios in the eleventh. Davis landed a big shot to the body and Barrios went down in pain. Barrios beat the count with Davis going right after him. The contest was waved off as Barrios was about to go down for a fourth time, still visibly hurt.