Hulu Theater, Madison Square Garden, New York City - In a battle for the WBO, IBF, WBC Franchise WBA lightweight titles, George Kam bosos (20-0, 10 KOs) shocked the odds to score a massive upset with a twelve round split decision over Teofimo Lopez (16-1, 12 KOs). (photos by Ed Mulholland)
The scores were 115-111 for Kambosos, 114-113 for Lopez and 115-112 for Kambosos.
Lopez came out firing in the first round with big shots. He was pressing forward and looking to take Kambosos out very quickly. Kambosos was jabbing, holding, moving and looking to slow the pace down. Lopez was landing big right hands and then got dropped by a right hand from Kambosos at end of the round.
Lopez was jabbing in the second and still pressing forward. Kambosos was looking for counters and landing small shots. Lopez was going to the body to slow Kambosos down. The pace slowed in the third, with Kambosos digging to the body often. Lopez was using his jab as a tool to set up something bigger. Both landed and took solid shots.
Kambosos was boxing well and landing in the fourth as Lopez was having trouble getting off. A close tactical fifth played out with both having their moments.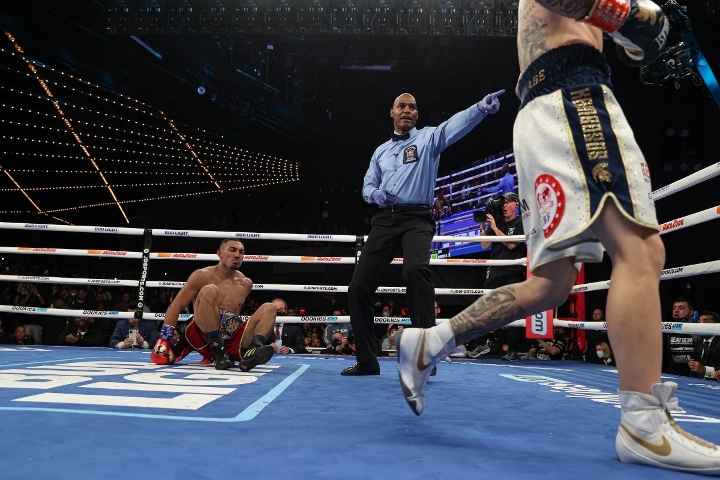 In the sixth, Kambosos was getting hit more often while missing his big shots. A cut opened up around the left eye of Kambosos. During the seventh, it was more close action with Lopez doing too much loading up and Kambosos boxing with counters.
They were trading during the eight. Kambosos got the better of the exchanges. The nose of Lopez was bleeding. In the ninth, Lopez was doing better as he was being more calculated with his punches. He was able to connect with several hard shots on Kambosos.
In the tenth, Lopez landed two chopping punches to send Kambosos down. Lopez went right after Kambosos with hard punches and had him in serious trouble. Lopez punched himself out as Kambosos survived.
Kambosos controlled the eleventh and very bad cut opened up on Lopez above the left eye. Lopez was not throwing many punches.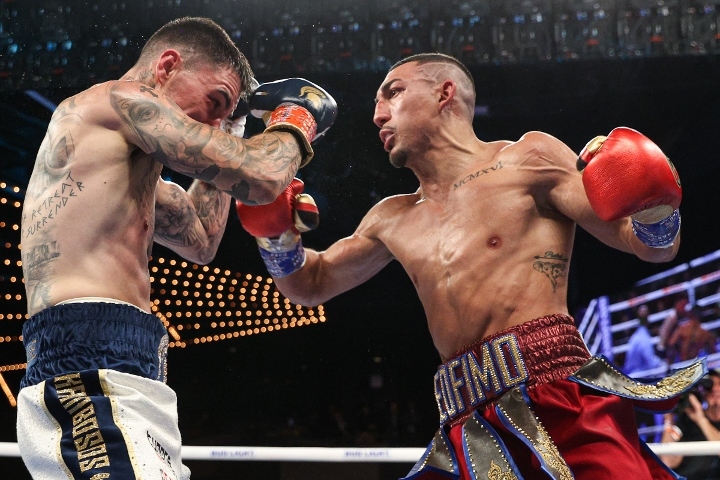 In the twelfth and final round, Kambosos continued to have the edge in outlanding Lopez in close action.