Bournemouth - In a battle for the EBU, Commonwealth cruiserweight titles, Chris Billam-Smith (16-1, 11 KOs) picked up a twelve round unanimous decision win over Isaac Chamberlain (14-2, 8 KOs) in a grueling fight. (photos by Lawrence Lustig)
All three judges had it 117-111.
They both came out jabbing away. Chamberlain was landing solid jabs in the first round. Once Billam-Smith pressed him against the ropes, they were trading big punches on and off, with Chamberlain seeming to get the better shots off.
Billam-Smith was able to stun Chamberlain with a hard hook against the ropes and was forcing a fire-fight. Chamberlian rocked Billam-Smith with a counter and was connecting hard on him. But then Billam-Smith rallied to hurt Chamberlain with a series of heavy blows.
In the third, Chamberlain was picking his shots, but he was being forced to engage in a fire-fight as Billam-Smith was walking him down at time and throwing big shots. Billam-Smith was pressing forward and doing a lot of damage. Chamberlain seemed to recover in the fourth, by working his jab and using distance to connect better. In the fifth, both were jabbing and targeting the body in very close action. Billam-Smith had the edge, with the harder punches, in the sixth of a close round.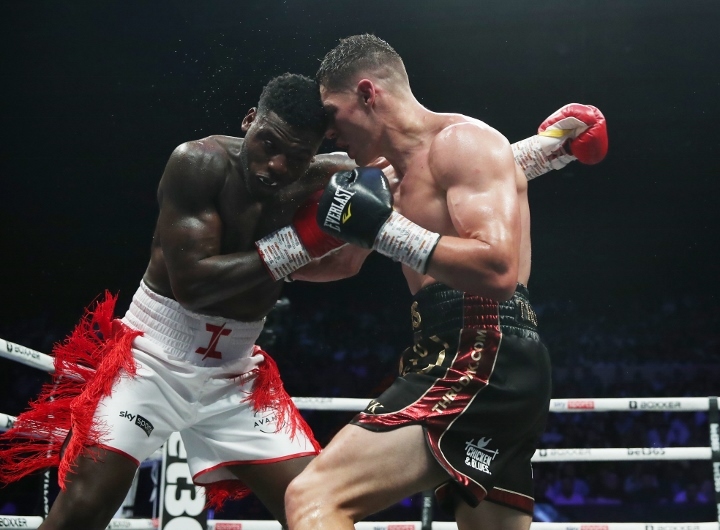 The seventh and eight were back and forth, where both had shades of success with combinations. The left eye of Chamberlain was swollen bad at this point, while Billam-Smith looked very tired. The ninth saw Billam-Smith rally with punches from both hands. They were fighting in close in the tenth. Billam-Smith was gaining the edge when he would let his hands go with heavy shots in the final minute.
Billam-Smith was controlling the eleventh, with Chamberlain the more tired of the two. The left eye of Chamberlain was now bleeding bad as well. In the twelfth and final round, Chamberlain tried his best to find a big punch, but Billam-Smith was able to run down the lock and avoided any big shots until the final 15 seconds, when Chamberlain was unloading and had him pressed against the ropes.