San Diego, California - Four division world champion Roman "Chocolatito" Gonzalez (51-3, 41 KOs) punished Julio Cesar Martinez (18-2, 14 KOs) over twelve rounds to secure a dominant unanimous decision win. (photos by Ed Mulholland)
The scores were 118-110, 117-111 and 116-112.
Martinez, who holds the WBC flyweight title, moved up in weight to take the fight but also failed to make the division limit by coming in two pounds over.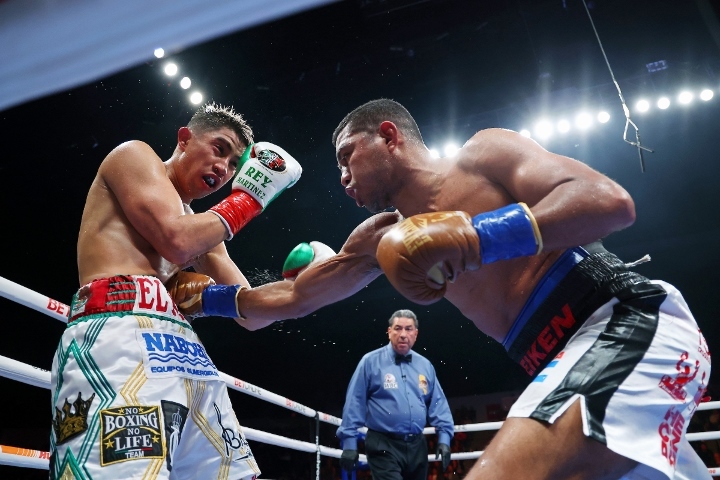 Gonzalez started slow in the fist round, with Martinez doing most of the punching. Gonzalez began to let his hands go in the final minute. In the second, Gonzalez was unloading from the start with heavy punches. He was landing most of the big punches during exchanges. The third round was a war, with the two boxers trading in a toe to toe manner. Gonzalez was landing the better punches.
During the fourth, Gonzalez doing a lot of shots to the body and landing in close to the head. Martinez was not backing down and more than happy to trade with veteran. In the fifth, Martinez did better with his combinations to the head and body. Gonzalez was ripping in hard punches during the sixth. Martinez was taking a lot of punches to the head and body. Gonzalez seemed to rock him for a moment with a solid uppercut.
Gonzalez was coming in the seventh with Martinez taking damage. Martinez was being game and firing back, but unable to hurt Gonzalez or back him up. Gonzalez continued to outwork and outbox Martinez during the eight and continued to do so during the ninth.
In the tenth, Gonzalez was working over Martinez for most of the round. Martinez was barely firing back. Martinez tried to throw a few combinations in the eleventh, with Gonzalez coming right back to the head and body with heavy fire. Gonzalez really punished Martinez the final minute of the round. During the twelfth and final round, Gonzalez continued to connect with heavy punches on Martinez for the entire round.