Text by Jake Donovan
Amanda Serrano continues to go up and down in weight with the greatest of ease. The record-setting seven-division titlist is back at featherweight, where she returns to defend her unified WBC/WBO titles versus Argentina's Daniela Bermudez. Both boxers made weight for their pound-for-pound showdown, which takes place Thursday evening on NBC Sports Network from Plaza del Quinto Centenario in San Juan, Puerto Rico. (photos by Tom Hogan/Hogan Photos)
Serrrano (39-1-1, 29KOs) hit the scale at 124.8 pounds for the first defense of her second featherweight title reign. Bermudez (29-3-3, 10KOs) weighed 125 pounds in her first fight at featherweight, moving up from junior featherweight where she presently reigns as the IBF titlist.
The vacant IBO featherweight title is also at stake for Thursday's main event, which headlines a Ring City USA tripleheader.
Serrano returns to her roots in every sense of the word. The Brooklyn-bred southpaw was born in Carolina, Puerto Rico, enjoying a big following on the island where she last fought in July 2017. The 32-year old has won titles in every weight division from junior bantamweight (115-pounds) through junior welterweight (140-pounds), though now intent on settling in at featherweight which she views as her optimal weight.
The fight with Bermudez will mark Serrano's first title fight since regaining the WBO featherweight belt in a 10-round decision win over unbeaten Heather Hardy in Sept. 2019, which also came with the interim WBC belt at stake. Two non-title fight wins have followed, including a 1st round knockout of Dahiana Santana last December in Santo Domingo, Dominican Republic.
Serrano was upgraded to WBC World champ once it was deemed that Jelena Mrdjenovich was not able to return to the ring in time to appear in what would have been a title unification bout between the two.
Bermudez has claimed titles in three weight divisions—junior bantamweight, bantamweight and junior featherweight—as she looks to catch up to her pound-for-pound rival. The 31-year old from Rosario, Argentina only recently entered the junior featherweight division, claiming the vacant IBF 122-pound belt in a 10th round stoppage of Cintia Gisela Castillo last December in Zavalla, Argentina. The win extended her current 14-fight unbeaten streak (13-0-1, 5KOs), dating back to 2014.
Serrano has won 25 in a row since the lone loss of her career which came back in 2012.
Also on the show, twin brothers Eduardo and Leonardo Baez appear in separate junior featherweight bouts versus highly touted Puerto Rican prospects.
Mexicali's Eduardo Baez (18-1-2, 6KOs) weighed 121.6 pounds for his scheduled eight-round clash with Cidra's Abimael Ortiz (8-0-1, 4KOs), who weighed 121.8 pounds.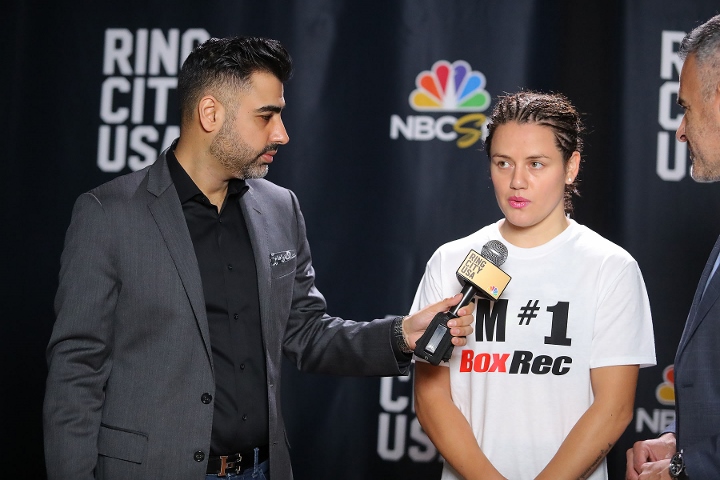 Leonardo Baez (18-3, 9KOs)—also from Mexicali—checked in at a fighting fit 119.8 pounds as he faces Ponce-based knockout artist Carlos Caraballo (13-0, 13KOs), who weighed 120.2 pounds. Their bout is also set for eight rounds.
Jake Donovan is a senior writer for BoxingScene.com. Twitter: @JakeNDaBox