Hulu Theater, New York City - For the undisputed super featherweight crown, with the WBA, WBC, IBF, IBO, WBA world titles at stake, Alycia Baumgardner (14-1, 7 KOs) scored two knockdowns to secure a ten round unanimous decision over Elhem Mekhaled (15-2, 3 KOs). (photos by Ed Mulholland)
The scores were 99-89, 99-89 and 98-90.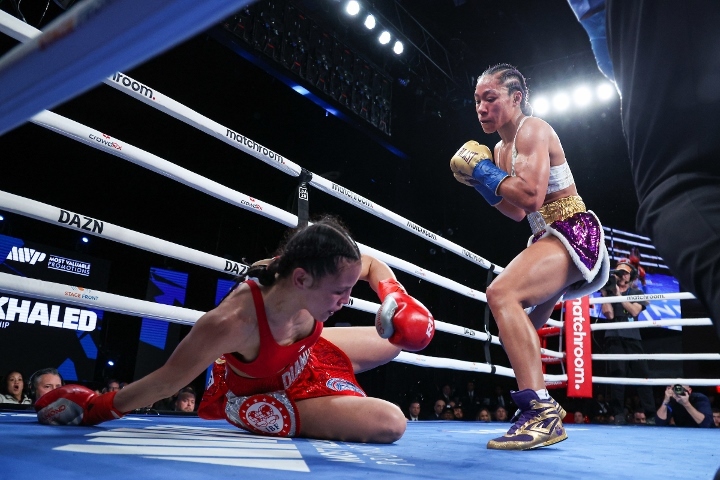 After a quiet first round, the two boxers opened up with power shots in the second. In the third, a big right hand would rock and eventually drop Mekhaled. Baumgardner jumped on her with punches. They were brawling as Mekhaled was dropped for a second time. Mekhaled was out on her feet, but managed to last the round.
Mekhaled was able to bounce back in fourth, with a tired Baumgardner taking a round off. They were trading in the fifth and sixth, with both having moments. Baumgardner was landing the heavier blows. In the seventh, Baumgardner rocked Mekhaled once again and went after her with big punches flying for most of the round. There were more back and forth exchanges in the eight.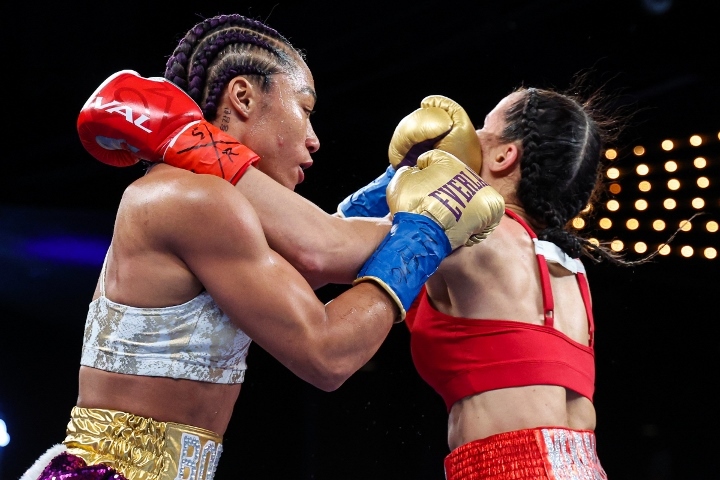 Mekhaled was taking the fight to a tired Baumgardner in the ninth. The tenth and final round saw Mekhaled continued to rally on what seemed to be an exhausted Baumgardner, who shot off big punches in the final twenty seconds.